Cycle Injury Specialist and Bike Fitting
Back Pain | Knee Pain | Foot Pain | Shoulder Pain
Saddle Soreness | Tingling in Hands | Injury Prevention | New Bike | New Shoes | New Saddle | Training for an Event
Foot to Pedal Fit | Comfort & Postural Fit | Full Bike Fit | Injury Bike Fit Package | Biomechanical Assessment | Home Exercise Programs | Follow up calls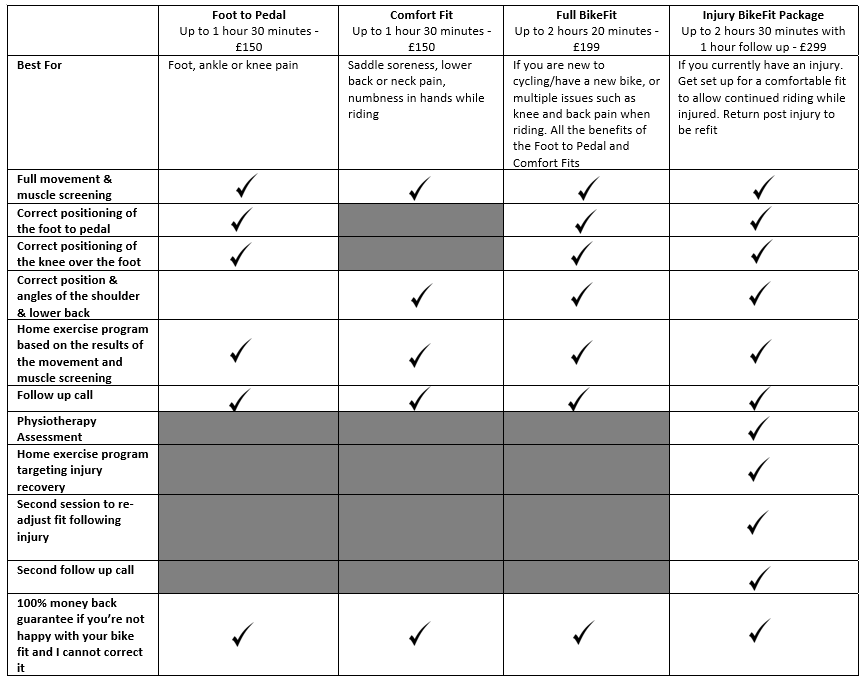 What is a Bike Fit?
A bike fit involves altering the 5 contact points (saddle, both pedals, handlebars) to optimize the angles of the ankle, knee, hip, shoulders and elbow joints. This ensures efficient use of the muscles and maximal comfort. Correct alignment of each body part, especially the knee over the foot, helps to reduce pain and prevent injury. The aim is to get you in the ideal position for your cycling goals, which could be a position to increase comfort, reduce pain, or a more aerodynamic position for competition.
Why Should I Have My Bike Fit Done With A Physio Rather Than A Normal Bike Fitter?
Physiotherapist have extensive knowledge of how the body works and moves. A normal bike fitter will be able to perform a standard bike fit, whereas we will provide a tailored bike fit. We take into consideration any previous injuries, any weak areas that pose a potential injury risk, any current pains you have reported, and how you actually plan to use your bike.
The problem with trying to achieve the ideal riding position is that a bike can only be altered so far, and often not enough. This is where a bike fit with a physio really makes a difference. We can start working on your body, with various stretches and exercises, to help it get into and hold itself in the ideal position.
If you are booking a bike fit because you are getting a particular pain when cycling, we will be able to fit you to your bike to reduce your pain, and provide you with home exercises and advice to reduce the pain further.
What Does A Bike Fit Involve?
Our bike fits involve the assessment of 4 areas: The human body, how the body moves, the bike, and how the body and bike move together.
We will discuss with you the type of cycling you do, any current and previous injuries, and your reason for booking a bike fit.
A movement and muscle screening will assess flexibility and strength of the appropriate muscles.
Your riding position will then be assessed and recorded for analysis and to show a before and after comparison.
Measurements and adjustments to your bike and cleats will be made to achieve the most efficient/comfortable riding position possible. An after video will then be taken for comparison.
A home exercise program will be designed to address any issues found in the movement and muscle screening done earlier.
You will be sent a document explaining what was changed on your bike and why, with video and photo analysis, and any future recommendations.
What If I Don't Like My Bike Fit?
A lot of people have a bike fit because they get pain at X number of miles into a ride. For this reason, it's difficult to know how affective your bike fit has been until you get out and try it for X number of miles.
We get everyone into a riding position that we feel will be most effective for them. Everyone leaves us feeling happy about their bike fit, but occasionally it wont completely solve their problem once they're out on the road, and we expect this to happen sometimes.
Just give us a call and we will book you back in, free of charge to make some further adjustments. Small changes make big differences, it can literally be as easy as moving your saddle back another mm.
Please be aware that because we are changing your riding position, you will be using muscles differently. This can initially aggravate pain and make the ride more difficult until your body gets used to it (we aim for long term improvements, not short term success). We advise to give it at least 3 or 4 weeks (if you cycle twice a week) before coming back to us for further adjustments.
I'm Not Sure What Level Of Bike Fit I Need
Please call us for a free consultation with Charlie and he can discuss with you what he feels would be most beneficial based on your conversation.
As a general guide:
Foot to pedal fit: New shoes, foot pain, knee pain
Postural/Comfort fit: New saddle, saddle soreness, lower back pain, shoulder pain, pins and needles in hands
Full fit: New bike, change in riding frequency/intensity, multiple pains eg foot/knee and an upper body pain.
How Often Should I Have A Bike Fit?
This really depends on how serious about cycling you are.
If you're a casual cyclist, then one fit will be enough.
If you are a professional, or take competing seriously, then we would recommend a bike fit at least twice a year. Slight muscle tightness, or a drop in saddle height by as little as a mm can completely change your body alignments and increase your injury risk.
As a general guide, you should consider getting a bike fit when buying a new bike, saddle, or shoes.
How Long Does A Bike Fit Take?
We schedule 1 hour 30 minutes for foot to pedal and postural/comfort fits, 2 hours 20 minutes for a full fit and 2 hours 30 for an injury package fit.
Please note that we purposely leave ourselves more time than we will need so nothing gets rushed, but often the full time is not needed. Any time that is not needed Charlie will use to start writing your report.
100% Money Back Guarantee
We offer a 100% money-back guarantee on all our bike fit options including the foot to pedal fit, postural/comfort fit, full fit and injury bike fit package. If you're not completely happy with a change to your bike that Charlie has made, give us a call and we will offer for you to come back in and make a change. Charlie is happy to do this as many times needed until you are happy.
If after numerous changes you are still not happy with every aspect of your bike fit. Charlie will return all aspects of the bike that he changed back to the original fit when you first came in and we will refund your money.
Please note that if you have paid for the injury package, £45 will be deducted from your refund for the injury assessment and home exercise program
What Do I Need To Bring?
Please bring your bike and cycling shoes. We advise you to wear clothing that you would wear when cycling. If you don't wear anything specific for cycling, please wear shorts and a vest top. We have changing facilities at all our venues. Bike fits involve a lot of getting on an off the bike, and a lot of cycling, so you may want to bring a bottle of water
Can I Pay on The Day?
Yes you can. We accept card or cash, and you don't pay until the end of your session. No payment will be made when booking your appointment today.
Ready To Book?
All appointments can be booked online, but if you're unsure on what type of appointment you need please book a free phone/video call consultation with one of our clinicians who can discuss your needs & advise you
For location information click on the pins on the map above to see full address & contact details for each individual location.